FINALLY! Sorry this post took me a while to post, there were so many photos and memories to sort through.
Hopefully, you remember that we went to California for our son Aaden's 8th birthday. It was our first family trip on a plane. Part of the plan was to take them to Disneyland, if you missed it, you can see our family Disneyland photos here.
This post is loaded with everything we did and where we ate. I don't have any hotel recs because we were so fortunate to be able to crash at my best friends place in the OC.
adventures:
We did a lot of driving! A LOT! Thank gawd for my husband, he did all the driving. I don't know what's happened but I have developed some serious highway anxiety. California highways are no joke, so I definitely didn't want to drive. We were so lucky that not only did my bestie & her bf leave us their apartment but also their cars!
I wish I had a tour map for you, on how we got around to all these parts of California during our 6 day stay. Other than our day at Disney, we didn't really have a plan and kind of just hit the road and explored.
It was important that we went places the boys would have fun, while also crossing some places off our bucket list.
Here are some of the places we wondered to: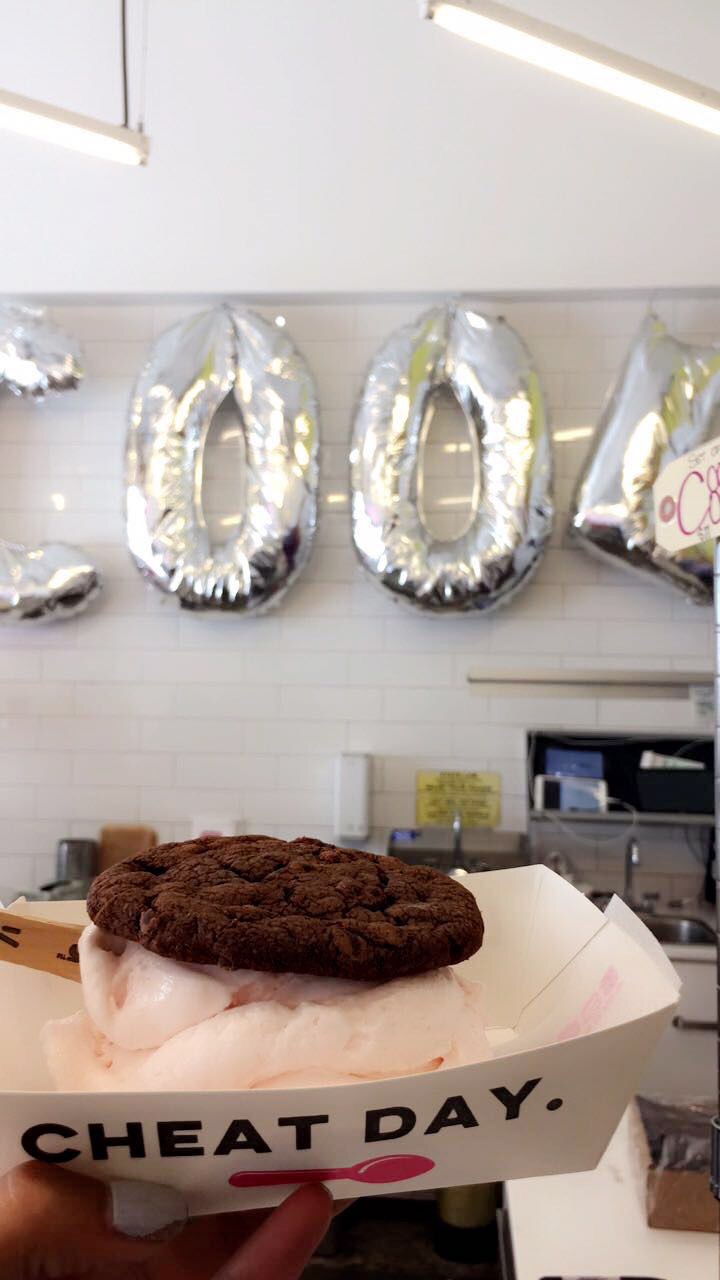 COOLHAUS: deliciously awesome ice cream! Industrious decor, neon sign, big letter balloons and wine infused ice cream? SOLD! we tried the ladies night- which is a cream base ice cream with rose wine. Um rose? hell yes! My girl and I got it as a sammie with their double chocolate chip cookie. Loved it!
URBAN CUP: a Vietnamese cafe located right on Newport beach. A very cute and modern cafe. I only had the cold sea salt Vietnamese coffee, and OMG it was so damn good.
COYOTE GRILL: we stayed in the OC so we were right near this Laguna beach gem. My girl took us here for our first breakfast in Cali, and we were hooked. Beautiful view in the indoor/outdoor seating area. We ate breakfast and had bfast dranks here a few times. Everything we had on the menu was delicious. The staff was always super nice! Even the boys loved it here, and they are the toughest food critics.
GRACIAS MADRE: OMGAWWD SO DAMN GOOD! A vegan Mexican restaurant. So happy my whimsy girls took me here (& the next 2 places on the list). We had the Tacos that are made with bbq jackfruit carnitas, and when I tell you they're amazing--- they are amazing! I haven't had meet now for 5 months, but I definitely haven't forgotten what it tastes like. These tacos tasted even better than meat, so much so that I paused looked down and questioned whether they were really vegan. Also, the butternut squash quesadillas, brussel sprouts with coconut bacon, and guac.....all wicked delicious! For dranks: I had the snow cone drink called La Quincenera & the Paloma---- you guessed it both were de-li-cious! The restaurant is also very beautiful and insta-worthy!
ALFRED TEA: I mean it's an all pink tea room....and...there's a neon sign...so of course I loved it! I popped my boba tea cherry here, and there were no regrets! So yummy, I wish we had one or a few in Boston!
FONUTS: gluten free & vegan donuts....GOOD vegan donuts! I had the chocolate coconut donut and it was amazing! It was like eating a vegan almond joy (which are one of my fave chocolate bars). The boys had the red velvet & the glazed, yum! There were so many flavors that sounded delicious, it was so hard to choose a flavor!
EAT CHOW: we visited the Costa Mesa location, it was a really nice space surrounded by really cute shops. I had the po-boy sandwich and it was pretty damn good! I also had their El Corazo mimosa--- because it had passion fruit- duh!
CASEY'S CUPCAKES: we grabbed some cupcakes in this wicked cute shop while at the Irvine shopping mall. Although my eyes lit up over the shop and the super cute glittery cupcakes, I didn't actually try any. My boys did, but of course and they thought they were really good!
HELLO KITTY CAFE: while at Irvine Spectrum Center, we passed by the Hello Kitty Cafe truck. Obviously, I had to stop and see what all the hype was about. I'm not a huge Hello Kitty fan, but everything was so cute! I grabbed a pricey latte, and was instantly thrilled over all the aesthetics, but the taste wasn't that great. I think I should've grabbed one of the cute little box cakes instead. I tossed half off the pricey latte away-- womp womp.
more cali Faves:
We fell in love hard for California, and hope to one day live there.
One thing I really fell in love with was all the plants everywhere. Succulents, cacti, palm trees, purple bushes, flowers, everywhere! Omg I stopped every 2 minutes to take pics & sent them to my sister who is such a plant lady. LOVED it! I also felt like everyone has a little jungalow on their front porches. Jealous!
It was so great to see my best friend even it was just for day! Also, it was so much fun sharing the Disney day with my friend Justin and getting to meet his boyfriend (who is the sweetest guy ever!) Plus, finally meeting up with my whimsy girls, I can't even tell you how long we've been planning to meet up in LA! Love those girls so much!
My boys had such an amazing time, they didn't want to leave. We created so many amazing unforgettavle memories. Even though we didn't get to do everything we wanted to do (pretty long list, not enough time + picky eaters) I couldn't have hoped for a better trip! AND the plane trip with 2 kids was not bad at all! So thankful for tablets!
So here's to next time, which will hopefully be soon!
'til then we'll be here in Boston, California dreaming!